14 May 2010
This week we've seen so many bays we had to use the car park next door, garage forecourt and sidestreets to accomodate demand!
Brendon and Bills&Margarets sit cheekly next to each other ready for collection!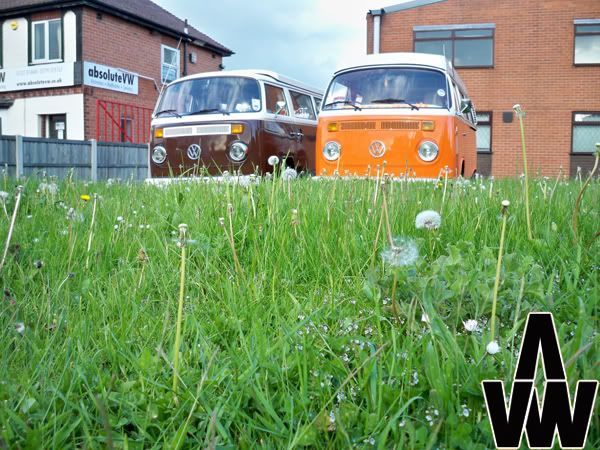 Brendon managed to put off the inevitable for a long time but finally succomed to a new carb for 2010.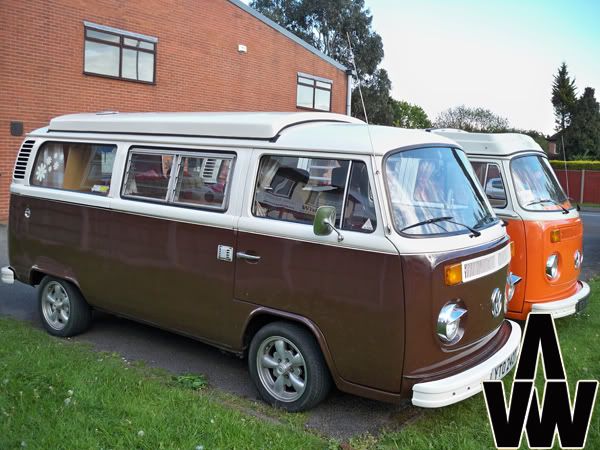 Bill has his running in oil dropped before a trip to the south coast this weekend to pick up his recently purchased Ariba Puck. Theres already talk of colour coding it to match the bus....posers!! :)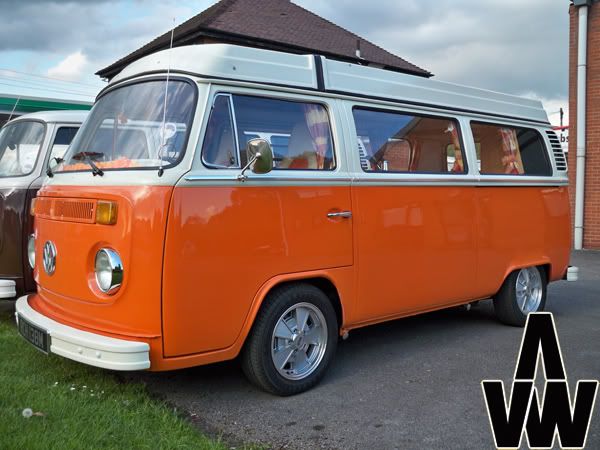 One for the ladies!!! Sam models the latest in leather before wheel spinning off up the road....time for some new tyres dude!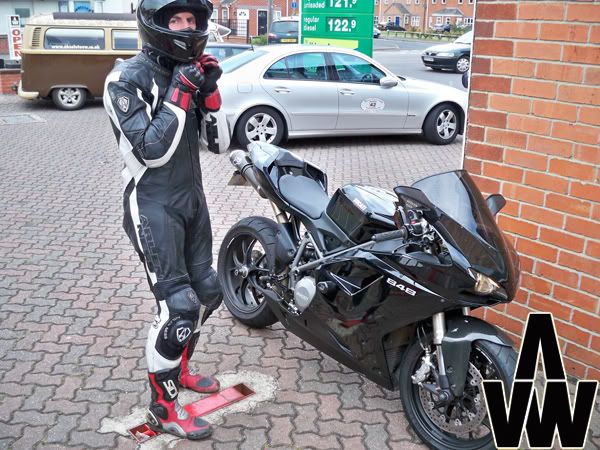 We're seeing a lot of Nick and his slammed green Bay at present as he prepares the interior of the van ready for its full fit out. I'm sure you'll be seeing this one on the front cover of a magazine in the not too distant future if all goes to plan!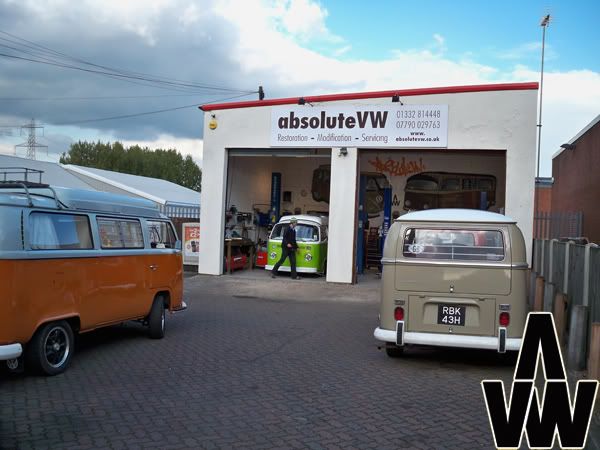 Tom gets stuck into ripping out some terrible wiring on Nicks bay amongst other things this week.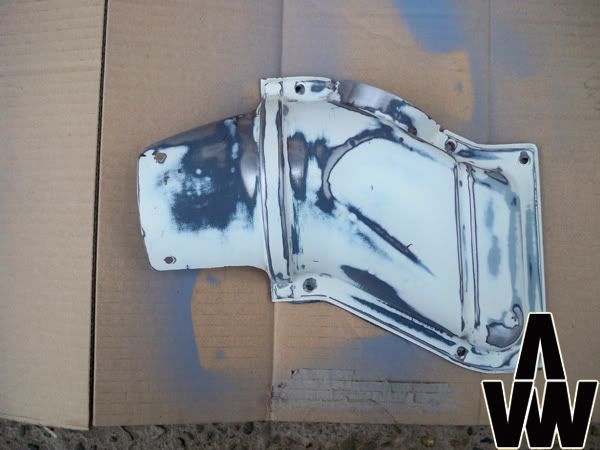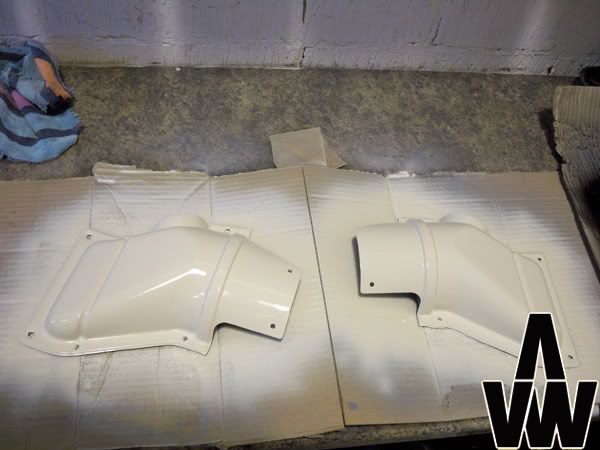 Bambus shelfs looking a whole lot nicer sitting on painted brackets and painted air box covers
David Eccles has his daughters bay transported home after having a new front axle fitted....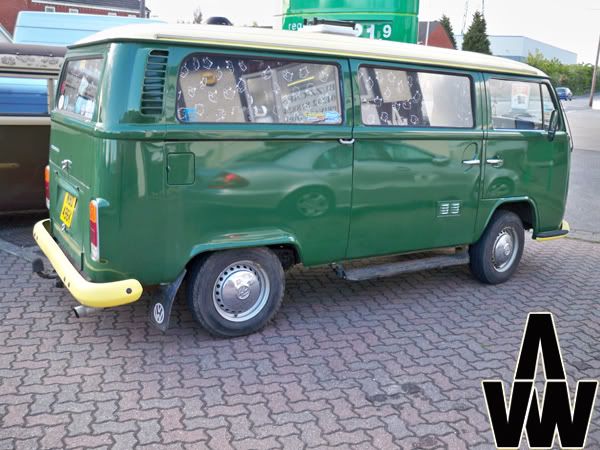 .....and on the return journey has his Split dropped off.
When taking it off the truck I had a strange flashback as I had sat in the same seat many years ago when wet flatting the dashboard! Must have done a good job... its still shining :)
Brian Woodwards bay gets a fresh MOT after a light fettling and has a rear seat belt put in to celebrate!
13 May 2010
Time to inject a little humor into the blog with a midweek flashback.... Here's me as a fresh faced 17 year old posing with my first car! As it took a couple of years of graft to get it to the condition seen here i thought i was king swinger of the car game....nothing changes hey! P.S ....nice boat shoes!
Talking of boat shoes....When having a sort out i also stummbled on these pics of the speedboat we used to tow to the south coast. It always got some looks being towed by the camper, especialy when the better half was behind the wheel!

It was a fun little project to take on, turning a dull yellow 70's boat into something fun. It was sprayed in a custom coarse metallic pink and trimmed to suit. I then squeezed in an amp, ten inch sub and four 6x9's!
Stupid audio install aside... with a 70HP motor on the back this thing could jump itself clean out of the water when cutting the wake of larger boats.... Cool :)
08 May 2010
This week we placed the camera duties in the hands of the new apprentice so appologies to all that didn't make it onto the blog! If only every week was as quite as the pictures suggest!
Now the woodwork is taken care of on Nicks bay, the next job is to plumb in the wiring for 240/12v...smithy gets stuck in with his jigsaw!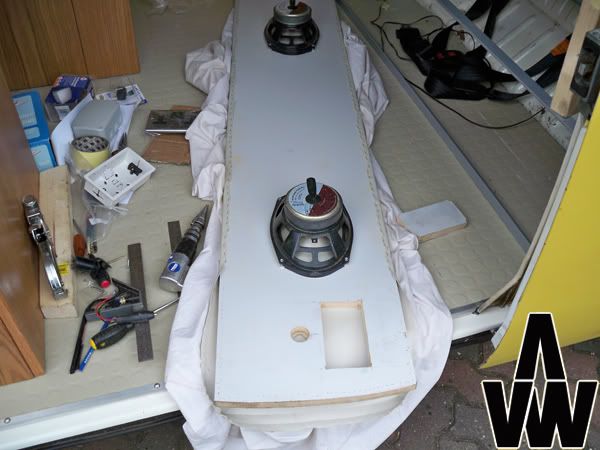 Alex has stripped out the back of his Bay and has asked us to plumb in the 240v hook up and 12v leisure/split charge system.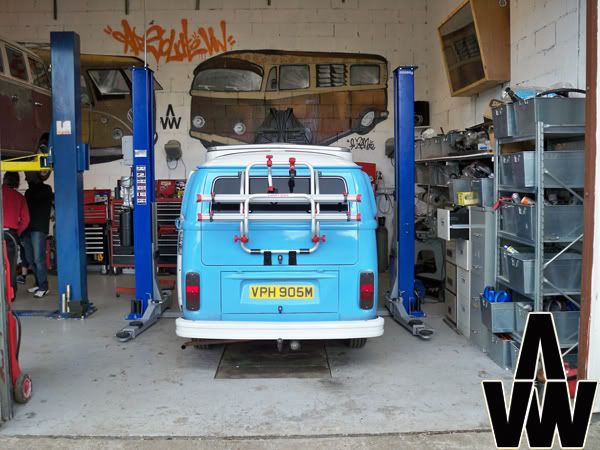 Rather than using a Zig unit for charging the leisure battery when plugged in at a campsite, we have opted for using a waterproof C-TEK battery charger hardwired in.Its a quality unit that comes on automatically when the 240v hook up is connected.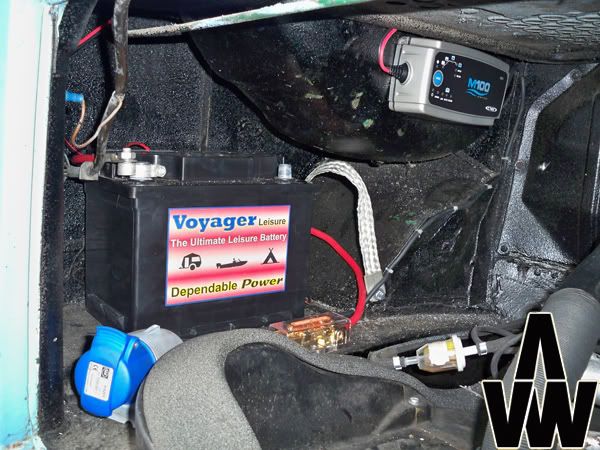 Enough wiring to make any campsite electricity meter spin round twice as fast!!! Nice neat install with all the fuses in one place :)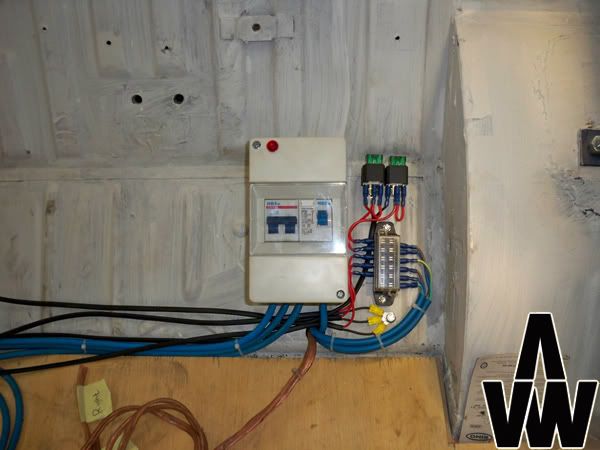 David Eccles drops off his bay for some MOT work.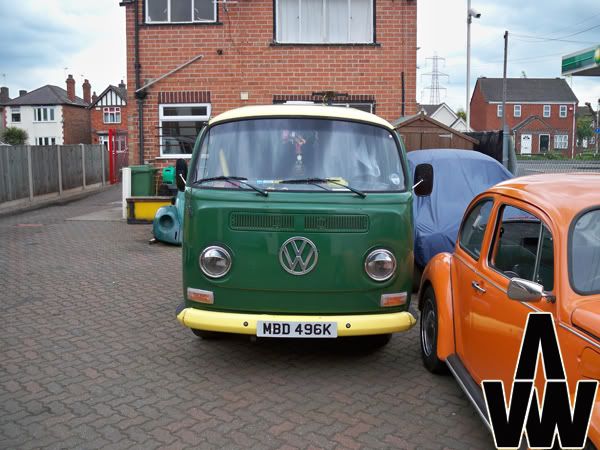 Richard drops in for a general check over of his recently purchased Split. He's back in a few weeks for a service and a few tweaks before enjoying the rest of the show season.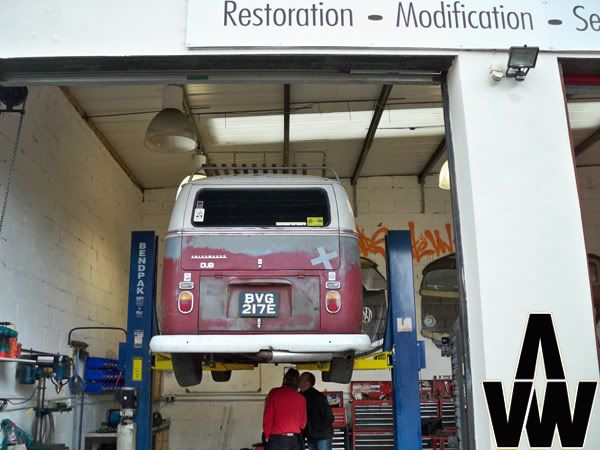 Jamie and Amandas 'the only bay in the village' ready for collection. Unfortunately they had to be dropped off here after Stanford hall when their clutch gave up. Still, at least it was on the way back! :)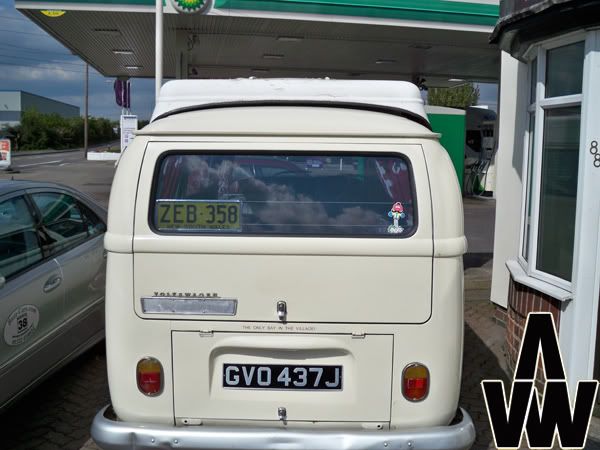 04 May 2010
Well...Mission accomplished....We not only managed to get everyone to SH but we also managed to make an apperance ourselves!
Nick kindly lent us his yellow bay for the day to display the new interior we have done for him. It generated a lot of interest due to its simplicity and quality of finish.
Tiveydays green bay also grabbed a lot of admiring glances, he is next on the hit list for a full interior with some really interesting cabinet ideas already unfolding...watch this space and the interiors link off the website!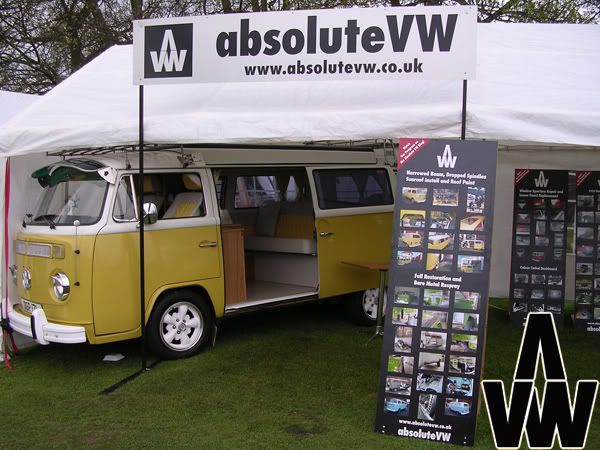 Double thumbs up....it must be good!!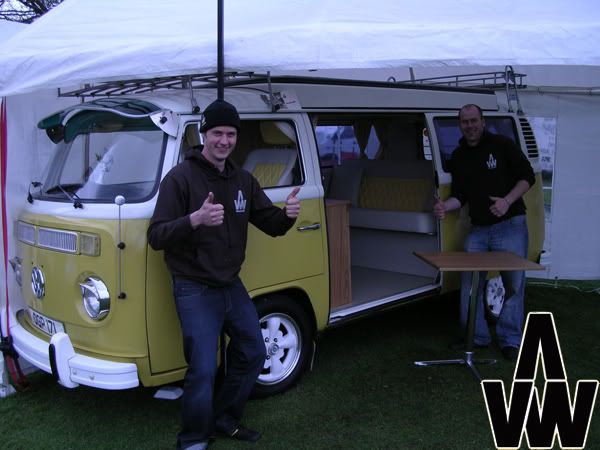 You've got to love a VW convoy until the camera man decides to brake suddenly! Zak you fool :)
Tiveyday has never lacked optomism, but come on man...the middle lanes for overtaking!!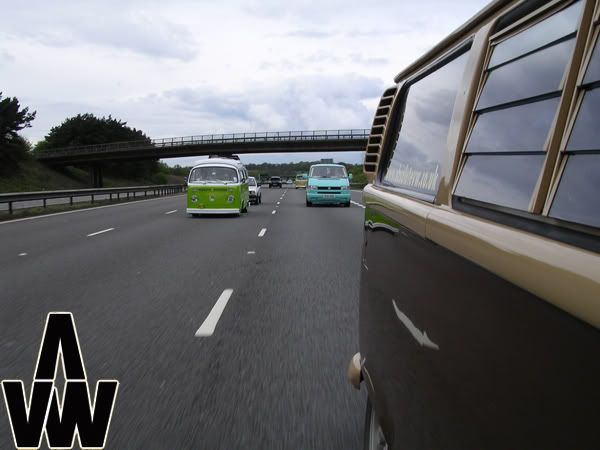 Here's a few cheeky shots from the show and our three standout VW's
Anyone that knows me will know my passion for anything painted brown. This split, although super bling had subtle bronzed windows to tone it back down....nice!!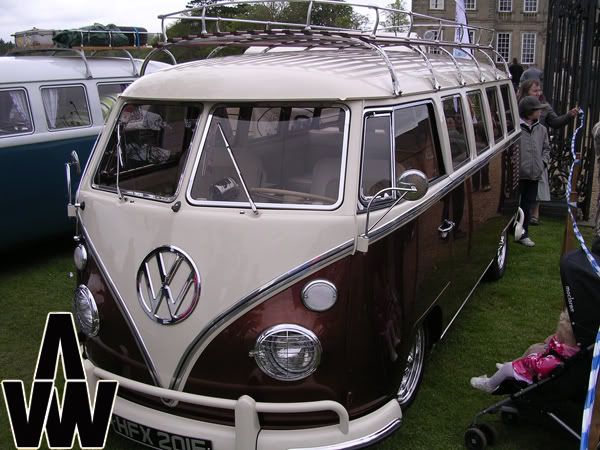 We're really excited about the prospect of restoring Colins Razor edge for him later in the year so thought we'd put a little tease up as we know he watches the blog! Speak with you later in the week mate.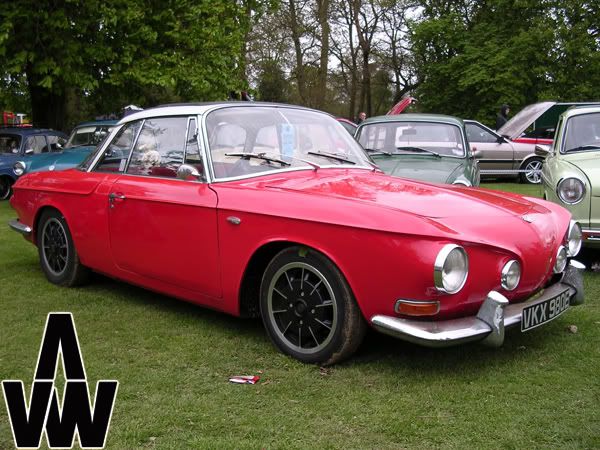 How can you not like this. For us it opitimises what is great about the VW scene...diversity! Glad to see Pauls old turbo motor going to good use.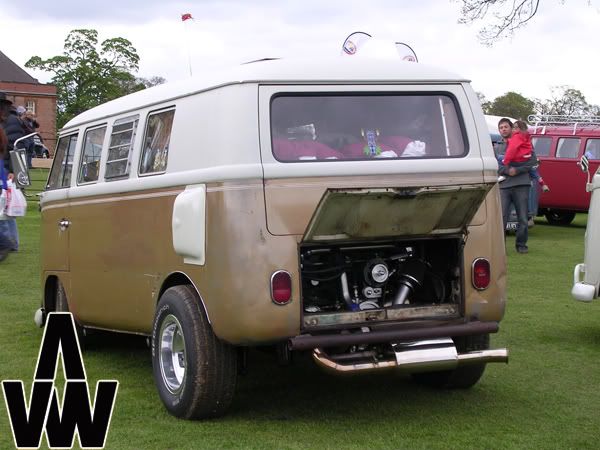 Here's Nicks interior up close. He opted for white american oak to contrast with the yellow diamond stitch.
To keep the clean lines of the cabinets all doors have push to open catches and just because they're cool... all the draws have soft close runners.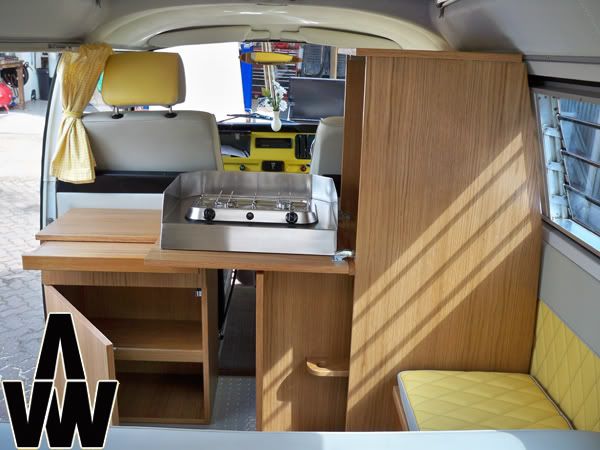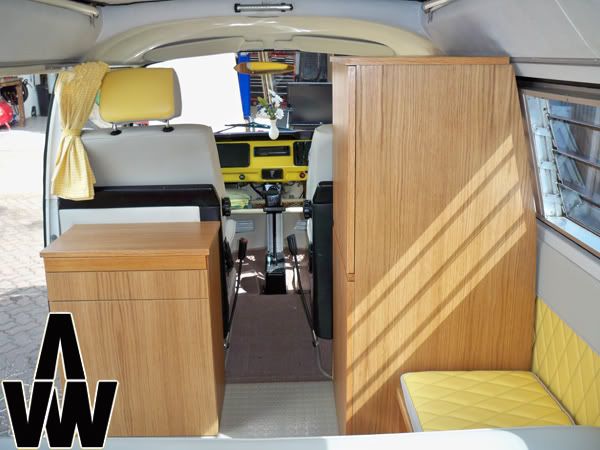 The collapsable table leg allows for easy storage when not in use and gives the option to use inside and outside the van.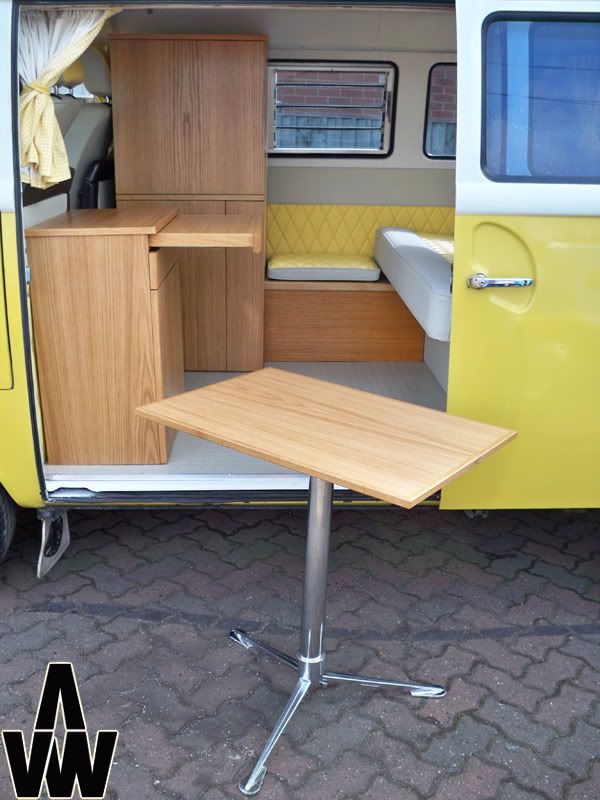 Grants bus undergoing what should have been a simple carb set up after replacing his valve seats. After diagnosing a fault with his new Dell's we reverted back to his Webbers to get him too Stanford Hall.
Tom sets up the linkage on Chriss bug in the foreground prior to getting the carbs balanced
Grant juices up the Webbers before setting off and adds some much needed colour to a dull rainey forecoart!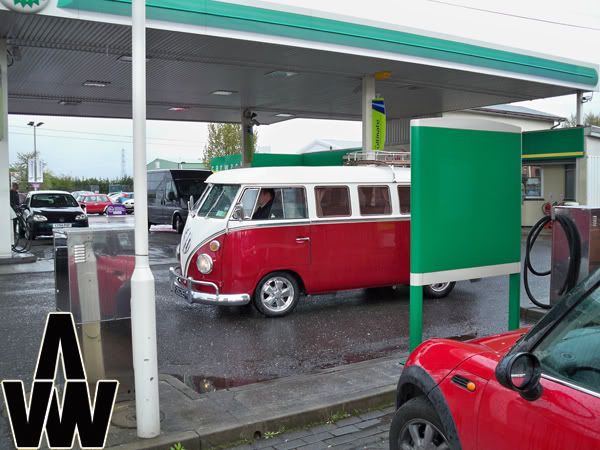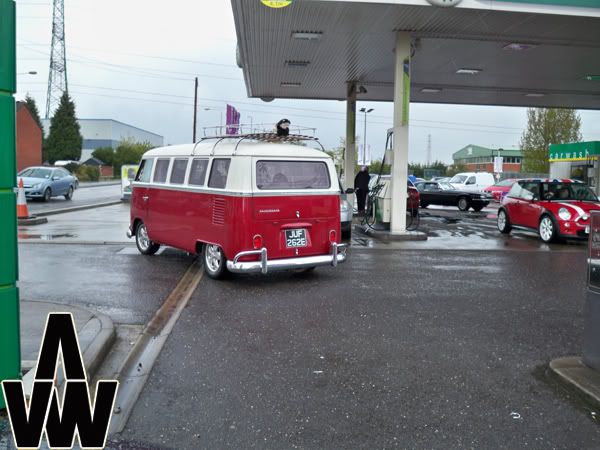 Steves van ready for SH with a new fuel guage and sender. Tom makes a service cover to seal off the access hole cut (or should i say butchered) by the previous owner.